A story of elegance and sophistication.
Marble Light candles are hand poured candles with love, our vision is to fill homes and other space with unforgettable, inspiring and long lasting scents.
Marble Light candles scents are inspired by travels around the world by the founder of Candle Light, Marble Nyathi who has traveled from exquisite Victoria Falls `Mosi oa Tunya, that means "The Smoke That Thunders"in Zimbabwe Africa , to the wonderful beaches of South of France, To Paris the famous city of love and all over Europe.
We believe that Every county and place has its own scents and memories and we promise to offer variety of scents to our customers from season to season with a unique taste of Africa and Europe.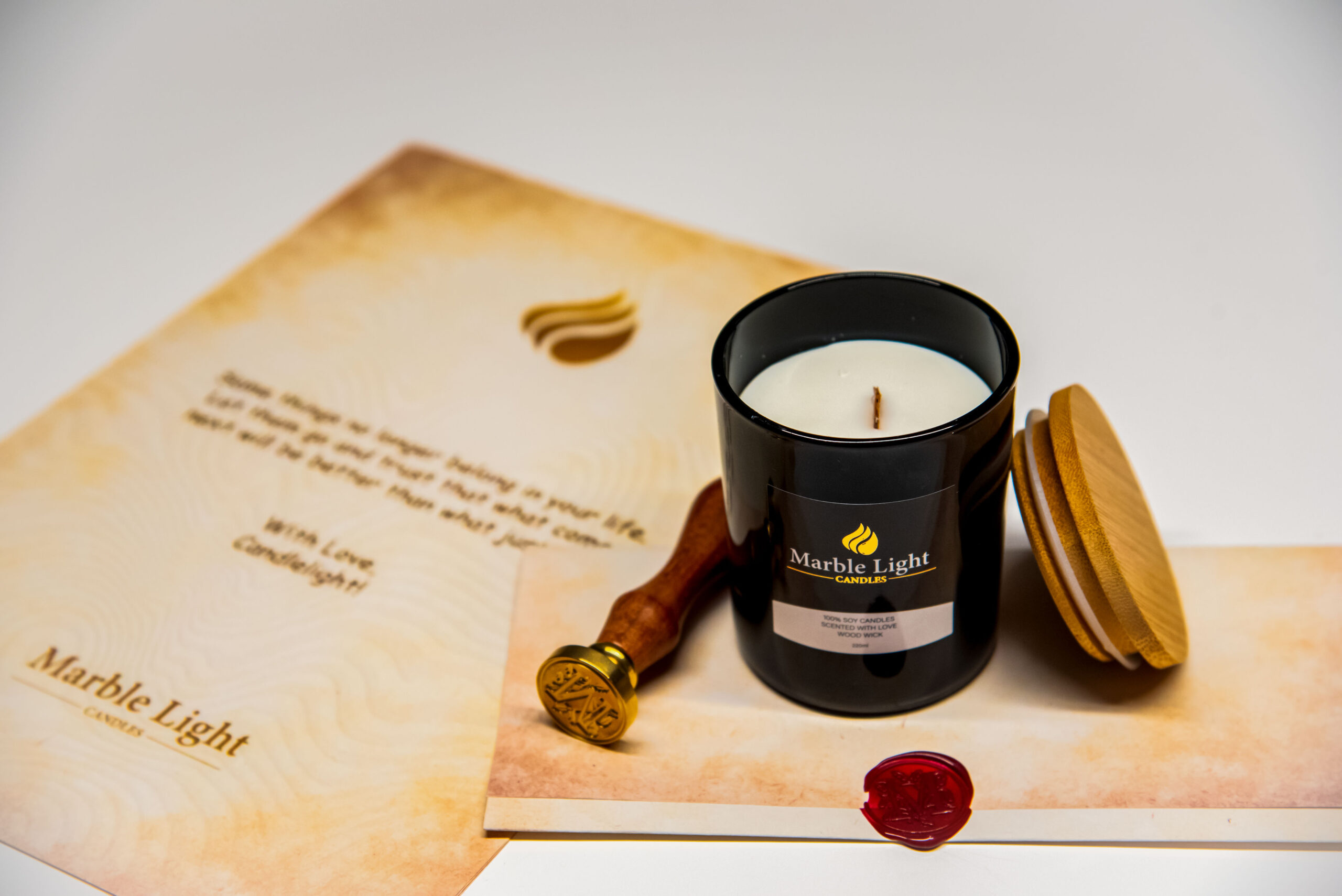 Our candles unusual scent is enclosed in a unique glass vessel with wood led, that is environmental friendly and can be recycled.
Our candles are refined with delicacy among scented candles. We use fragrances like black currants, pears, in the hearts floral chords: iris, jasmine, orange blossom and the basis of the fragrance are tonka bean, patchouli, vanilla and praline.
These fragrances can be described as classic, but not boring. Very elegant, slightly sweet, not obvious. Perfect for a particularly glamorous office, classic home or hotel. Feminine, pleasant, unforgettable. They will surely charm every person that enter the room.
Gift
They come with a personalized note for every customer and is printed out on a vintage paper and seal stamped for your love ones. The extraordinary appearance and the sensuality of the fragrances make it a perfect gift. Often customers reach for them as part of wedding gifts, due to a bachelor party, a birthday, round anniversaries or holidays. Candles are packed in an elegant cardboard box with Gold and black stripes. stroller.
Fair and Social
Our candles are hand-poured in the Netherlands under fair conditions in a small family business. Quality through attention down to the smallest detail.
Production with reduced harmful substance
Absolutely pollutant-free!
Our candles are Eco friendly. We use raw material from organic farming. Natural cotton wick and fragrances based on natural essential oils.
Vegan
100% soy wax from certified organic cultivation. Soy wax contains neither animal fats nor animal oils.
They come in recycled candles containers with wood lids.
Candles that shine a light on Child Abuse Awareness
MarbleLightCandles Names and Scents
Citrus Chocolate scent. #"Sunday Sunday moods"
Sweet strawberry scent. #"Inner beauty"
Cherry blossoms. #"Self love"
Green Apple tea scent. #"Tea time"
Honey Huocao pine scent. #"Island"
Jasmine Chamomile
Pineapple
Rose night willow herb
Honey peach
Holly Hami melon
Mission
The goal of MarblelightCandles is to shine a light and brighten lives.
To stimulate people to create unforgettable memories that make us feel good and bring a sense of place and peace to every space.

A portion of our profits at MarbleLightCandles will go towards Child Protection programs + Wellness organizations. We have no profit motive